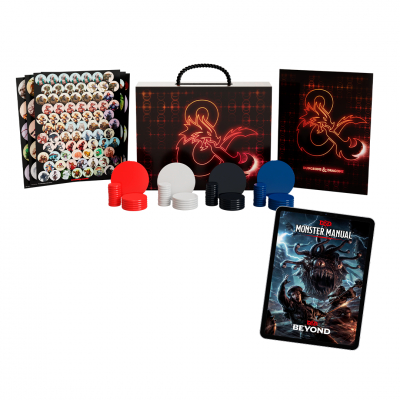 D&D Campaign Case: Creatures Bundle
$64.99 $51.99
Physical & Digital Formats
Shipping is free in selected countries!
Description
Overview
This campaign case equips the Dungeon Master® with a large set of customizable creature tokens that will complement any D&D® adventure or home brew campaign.  The high-quality creature discs and broad selection of reusable creature clings makes this kit ready for any encounter.  It's also the perfect companion to the D&D CAMPAIGN CASE: TERRAIN.  Use these campaign cases together to create a premium experience for all your adventures.

All books are English only.
Includes
CONTENTS


Includes Physical & Digital Formats
64 weighted plastic discs that come in 3 sizes and 4 colors for maximum flexibility in encounter creation: 40 medium sized creature tokens, 20 large sized creature tokens, 4 huge sized creature tokens
5 Sheets of fully illustrated reusable creature clings.  Simply apply a cling to a disc to create customized Creature Tokens ready for any encounter.
2 Removable custom token storage trays
1 storage folder for creature clings
1 durable storage case with a magnetic closure and a rope handle designed to take your adventure on the road
1 Outer box with all new art that protects the keepsake box
A great companion product to Campaign Case: Terrain
For use with the fifth edition Player's Handbook

®

, Monster Manual

®

, and Dungeon Master's Guide

®

D&D Beyond digital copy of the fifth edition Monster Manual
 Shipping Costs
FREE Shipping to US, including AK and HI
FREE Shipping to Canada, Hong Kong, Australia and New Zealand
Shipping charges calculated for all other regions in cart